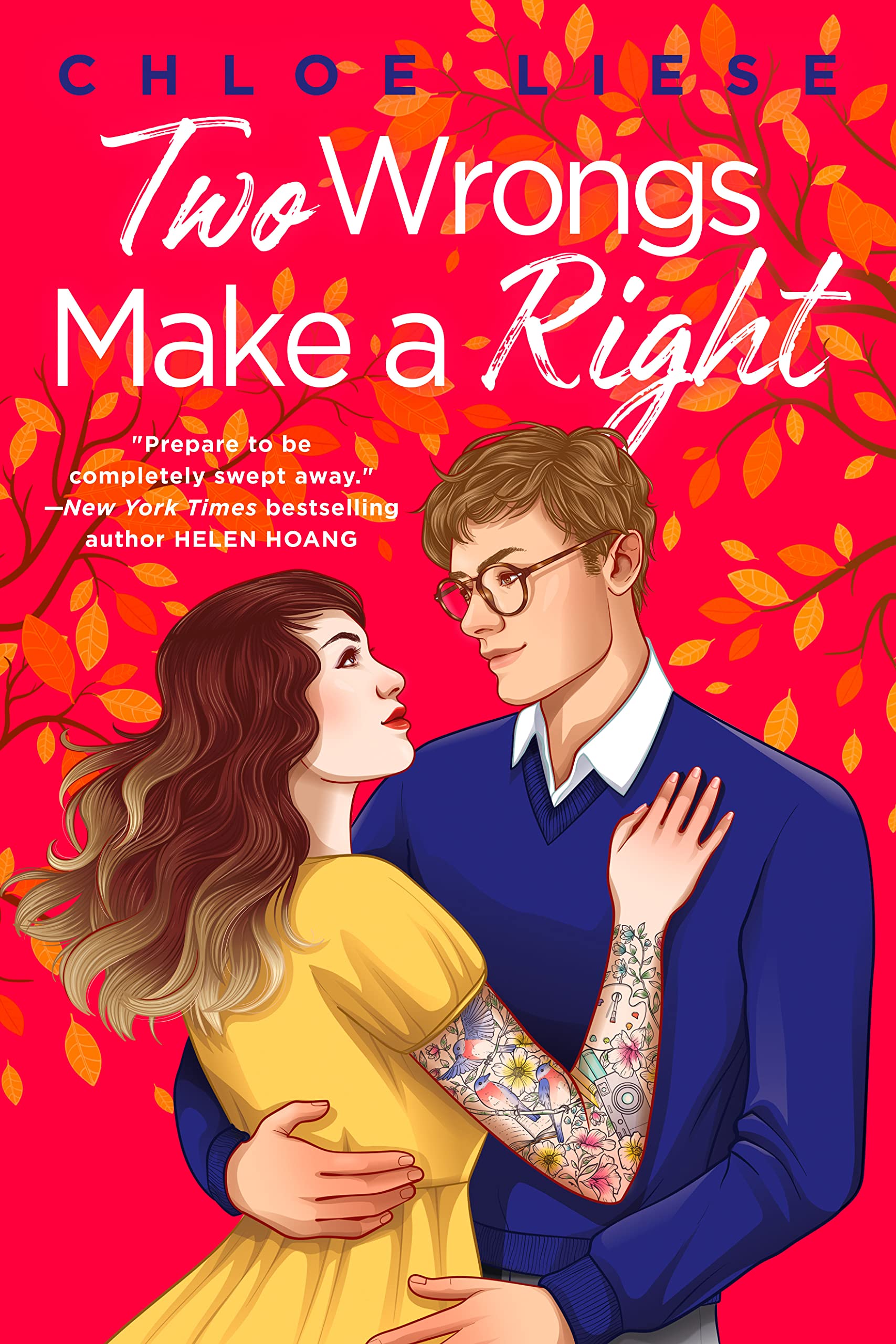 Opposites become allies to fool their matchmaking friends in this swoony reimagining of Shakespeare's beloved comedy, Much Ado About Nothing.
Written By Natalia
Two Wrongs Make a Right is Chloe Liese's first book in The Wilmot Sisters series. Chloe Liese is known for writing romance novels featuring characters and experiences that are often underrepresented in contemporary romance books. Think of characters struggling with their mental health, are neurodivergent or part of the LGBTQIA+ community. Everyone deserves a love story, and Liese is ready to break down the stereotypes surrounding such marginalized groups.
In Two Wrongs Make a Right, a retelling of Shakespeare's Much Ado About Nothing, she does just that. The book features main characters Jamie Westenberg, who struggles with anxiety, and Bea Wilmot, who is autistic. Both Jamie and Bea believe they will probably never get along, especially after Bea spills drinks on him not once but twice. Luckily, their friends know better and come up with a plan to see whether they are a good match and set them up on a blind date. Lovers of the fake dating and enemies-to-lovers tropes will rejoice in this new addition to the romance genre.
A highlight of Two Wrongs Make a Right is Chloe Liese's brilliant job of describing the complexities of mental health issues and the experience of being neurodivergent. I appreciated the communication between Jamie and Bea. Even though they had to navigate their newly found connection and the meddling of their friends in their love lives, they managed to communicate the issues they were struggling with. Bea being autistic grapples with social situations regularly and ends up wanting to escape large groups. During her inner monologues, we learn that she beats herself up for not being able to handle social situations like neurotypical people do. When it comes to dating and her love life, she struggles even more, especially after dealing with the repercussions of a toxic relationship. Jamie, on the other hand, appears composed on the outside, but in the meantime, he is continuously trying to manage his anxiety.
I also loved the book's sex scenes, which is often a hit or miss for me in romance novels; they were sexy as well as vulnerable. Bea and Jamie have undeniable chemistry, which I think is mainly due to their communication and their consideration of each other's feelings and (sexual) desires. I believe that well-written sex scenes add to the romance book reading experience, and those scenes between Jamie and Bea are definitely worth swooning over.
Two Wrongs Make a Right is an enjoyable and heartfelt read about two people facing mental health struggles while trying to adhere to societal expectations. I think this book is a wonderful addition to the growing collection of neurodiverse romantic titles, including The Kiss Quotient by Helen Hoang and Act Your Age, Eve Brown by Talia Hibbert. I look forward to reading more about Jamie and Bea in the next installment of The Wilmot Sisters series, Better Hate than Never, due out in the autumn of 2023.