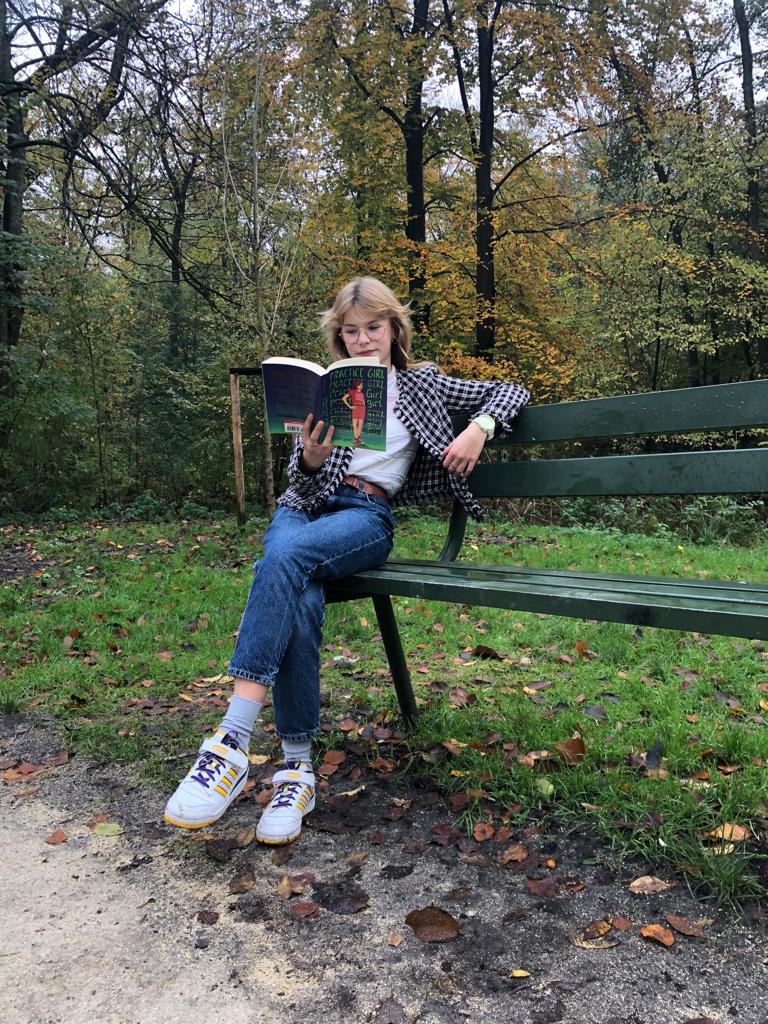 My name is Romy, and I am 13 years old. Me in a bookstore is like a kid in a candy shop—I adore reading. (I might even want to become an author later on…) I'm really into dancing, fashion and playing the saxophone, and I love cats.
My favorite genres are romance, literary fiction, coming-of-age and fantasy, although I'm always up for something new.
I started writing reviews for the ABC because I noticed that the reviews for YA novels aren't even written by "young adults." I thought it might be a good idea for me to give fellow readers my honest opinion about books—not from a grown-up perspective, for a change. I hope my little pieces help you find that cool new book you have been looking for.
Most of us spend a lot of time on social media: Insta, TikTok, YouTube and so on. So does Almond Brown, a shining "star" with more than 3.5 million followers. But she isn't shining on the inside; quite the opposite. She suffers from anxiety and a skin disorder and is being blackmailed with fake nudes. All of that only makes things worse. This book made me look at social media from a new perspective. Are the people we see online really what they show us, or is there more to it? Almond's rocky journey hooked me from the beginning 'til the very end. Seeing her heal wasn't only insightful, but also beautiful in its own way.
Frances Janvier's only aim is to get into Cambridge University. Her world revolves around her scholastic ambitions. And one other thing: drawing pictures about the twisted podcast series "Universe City." But as she gets close to the creator, there are secrets to be uncovered. Why is he so mysterious, and what is the creator's personal connection to the podcast? Why does the show mean so incredibly much to him?
If I were to visualize this book, I'd see an abstract, beautiful image of a city skyline, at night, completely silent. Radio Silence is perfect if you're ready for something different.
What's better than snuggling up in a comfy chair with a cozy blanket, some steaming tea and a book? Let me tell you, this read is perfect for those chilly February days. Meet the sweet, quirky Mika Moon. Her YouTube experiment spins out of control, and before she knows it, she finds herself on the doorstep of the Nowhere House. The three young witches living there need Mika's help to control their budding magical powers. Quite the challenge. Especially with the handsome but grumpy librarian who keeps getting in her way. This novel is a charming getaway from the icy rain.
I thoroughly enjoyed reading this book! As someone who does not like reading scary, sad books (the world is already scary and sad enough), I was a tad worried I wouldn't like it because of its mysterious description. Mysterious it was: Margo is missing, and it's Q's job to find her. Margo is a strange and secretive girl. The novel reminds me of the song "Brooklyn Baby" by Lana del Rey. I have never read something just quite like this. The book is a mixture of fiction and fact. The story takes place in Orlando, a paper town, with paper people and paper buildings. Paper Towns is very intelligently written, with complex characters, and I genuinely recommend this book to all.