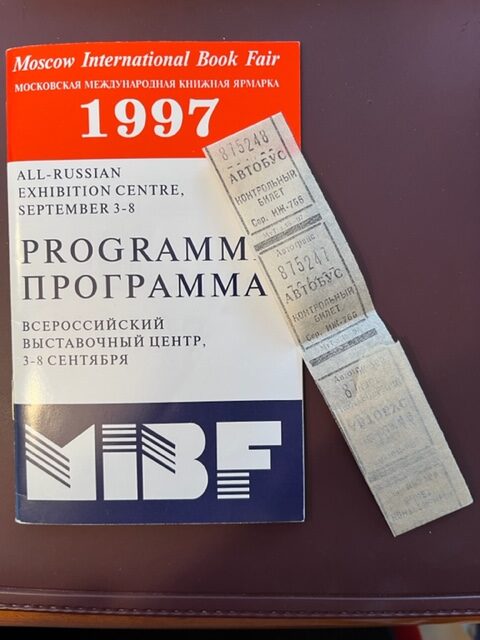 To mark our 50th anniversary, we're going back through the archives to share some of our more memorable stories.
"1997: ABC at the Moscow International Book Fair"
written by Lynn
After watching Dutch media magnate and Moscow Times founder Derk Sauer's recent interview on the Dutch Summer Nights TV program, I remembered our own bookselling escapades in Moscow 25 years ago.
Brinnnnngggggg… Moscow calling. Would ABC please participate in the upcoming Moscow International Book Fair Sept 3-8, 1997? The director himself was on the line, wanting us to help celebrate how the "Book Serves Peace and Progress." Yes, we could sell books to the public from the stand. Moscow was bulging with 100,000 expats, most of whom came to start businesses in the newly opened economy.
Our American friends Steve and Chan Harrington were living in Moscow at the time. Chan's job was to teach Russian entrepreneurs how to read and write a balance sheet. Confused with the number left over at the bottom of the sheet, they asked her where to book that surplus. "That's the profit," she said. "You can take it or invest it as you please." Soviet planning never showed either profit or loss. Steve was a freelance organizational consultant.
We – my husband Avo, son Paul (16) and nephew Ben (13) – could stay with them.
Our Dutch friend Kees Knijnenberg had printing contacts in Moscow, and also a friend at the independent English-language daily newspaper The Moscow Times, who encouraged us to come when asked for advice. Kees' student intern, Lena, could help us on this side with applications and visas and on the Russian side, setting up and running the stand. He knew a French printer who sent truckloads of blank notebooks to Russia – if we could get our stand books to Hamburg, he'd have them loaded onto his truck for Moscow and take care of customs-clearing there.
So, after Kees showed us how to make a digital title list, Lena and her boyfriend loaded the ABC van with books for the stand and drove them to Hamburg for the connection. She went to Moscow a little ahead of us to visit her family and to pick mushrooms in the woods.
The four of us flew with Aeroflot to Moscow, where Steve and Chan took us home for borscht. Washing up afterwards, I looked out the window and saw snowflakes the size of dandelion flowers dancing in the early September air. It was cold!
When Avo and the boys went to the stand the next day, there were neither shelves nor lighting. Lena rescued the situation by finding someone who knew where they were kept in storage and was willing to bring them in for a price. So Avo and the boys cleared off years of dust and hung the shelves. But what about the books?
The books had cleared customs at a sub-office outside the city. Lena's boyfriend offered to take me there to collect them, but to get to him and his truck I had to take a subway ride using phonetic directions, as I read no Cyrillic and signs in any other language were absent.
Luckily, I counted the number of stops correctly and met the kind stranger outside. We drove through the countryside for another 20 minutes or so, past walls of empty sea containers, on small roads on open fields to a large brick building in the middle of nowhere. There were no vehicles parked outside. The only person present was passed out across the doorsill. We stepped over him carefully and walked upstairs until we found a loading dock with boxes of our books waiting.
We loaded them up without having to sign any documents and drove to the fair. Everything was a mess there. The other foreign exhibitors had sent their books by air freight, and these were being held up at the airport customs office. (They wouldn't arrive until the last day of the fair.) All their shelves were bare.
Meanwhile, an invitation arrived for us to attend the gala opening dinner as guests of the Minister of Culture. It was as opulent as one could imagine, although the group photo being taken of 15 generals in military dress, chests covered with medals, was a moment for sober reflection. The Minister himself said warm words about books, thanked us for coming, hoped for continuing cooperation and then went off to dance.
We had no idea who our customers might be but had placed two ads in The Moscow Times, hoping to attract an English-speaking crowd. That newspaper was one of Derk Sauer's media businesses which, along with Russian language versions of Cosmopolitan and Playboy magazines, gave Russians airbrushed versions of life in the West. We saw old editions being sold by ladies in babushkas in the subway stations along with small bouquets of violets wrapped in brown paper with a twist on the bottom to protect the stems.
Michael Gladischev, an independent publisher's representative, brought all the Russian booksellers to meet us, and their eyes popped. Although Amazon.com had started delivering books to many countries by then, they didn't send books to Russia. People had their ordered books sent to friends outside Russia, who'd bring them in on their next visit.
The customers didn't want to come into the stand to touch the books, but respectfully pointed at ones they wanted to see. If they liked a book, they asked us to sell them the Russian rights to publish it! We had to explain that we weren't publishers but retailers. Book retailing was also a new concept. Later, I learned that every book published in Russia was sent to all bookstores on consignment. The publisher would be paid for copies sold only two or three years later.
It was a new environment for us, and we had no idea how to get the unsold books back to Amsterdam. Luckily, one of the bookstore directors offered to buy all the books on the stand without waiting two years to pay. Our dreams of setting up a more lasting English book post in Moscow didn't come true. But one dream did….
In honor of Moscow's 850th anniversary celebrations that weekend, the Bolshoi Ballet was performing Sleeping Beauty by Tchaikovsky and we had tickets. The very day that Princess Diana was being buried, the music for a sleeping princess and the setting were too much to absorb. I shook and cried in my seat beneath the balcony.
Today, 25 years later, as Russia has taken a very different route to development, I wanted to share my memories. Derk Sauer has moved the still-independent newspaper offices of The Moscow Times to Amsterdam to avoid persecution of his journalists and editors. You can read the paper online and support it as well.