Stubbornly independent: The American Book Center celebrates 50 years of bookselling!
In 1972, Sam Boltansky and Mitch Crossfield opened up a bargain bookstore next to Madame Tussaud's in Amsterdam, selling remainder books and magazines that came from America. Lynn Buller, a fellow American, joined them while on vacation from her home in Minnesota that same year – and she never left. Originally employed to keep an eye out for shoplifters, she took over the company in 1983 along with her family.
The American Book Center – ABC for short – opened another English-language bookstore in The Hague in 1976, and a third store in the Westfield Mall of the Netherlands in Leidschendam in 2021. Today, the business is run by the Kaplanian-Buller family and two adjunct directors. They support an international team of knowledgeable booksellers who, once hired, seem to enjoy staying: the current 50 staff members look back on a total of over 700 years of bookselling experience at the ABC!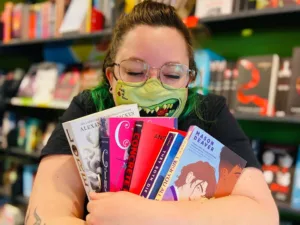 Stubbornly independent, the ABC has tackled challenges driven by its quirkiness, creativity and flexibility: in 1994, as one of the first bookstores, the ABC went online. In 2010, they acquired Betty, the first Espresso Book Making Machine in Europe and since 2015 they regularly pop up at festivals such as Heroes Dutch Comic Con.
Offering a broad selection of manga, young adult literature and BookTok hits, the bookstore has naturally attracted a whole new generation of readers over the past few years.
Not to forget the current location on Amsterdam's Spui square: with its iconic tree trunk running down the middle of it, ABC Amsterdam has often been listed as one of the Most Beautiful Bookshops in the World.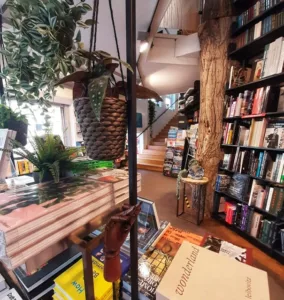 On Saturday, April 16th 2022 – during the Dutch Boekenweek – the ABC will welcome customers to birthday parties in all three ABC stores in Amsterdam, The Hague and Leidschendam.
Other activities are planned throughout the anniversary year, such as extra discounts for registered Booklover Card holders, special anniversary merchandise and an update of the ABC's Favorites selection.