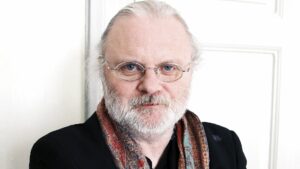 Written by Lauren
Norwegian author, poet and playwright Jon Fosse has won this year's Nobel Prize in Literature for what the Swedish Academy called his "innovative plays and prose which gives voice to the unsayable."
The 64-year-old's major works, written in the Nynorsk variation of Norwegian, include the Septology series of novels, Aliss at the Fire, Melancholy and the soon-to-be-released A Shining. (You can click on the titles to buy the books in English.)
Fosse, who said he was "overwhelmed and somewhat frightened" upon hearing he had won the prestigious award, has been called the "Beckett of the twenty-first century" by Le Monde.
His works, said Nobel Prize officials, focus on "anxieties, insecurities, questions of life and death." He has written some 40 plays in addition to novels, poetry, essays and children's books.
The Academy said his novels are "heavily pared down to a style that has come to be known as 'Fosse minimalism'."
The prize is awarded annually for a body of work.
In addition to joining past winners such as Gabriel Garcia Marquez, Toni Morrison, Doris Lessing and even Bob Dylan, Fosse will receive 11 million Swedish kronor (a little over €948,000).
The awards ceremony will take place December 10, the anniversary of award founder Alfred Nobel's death.