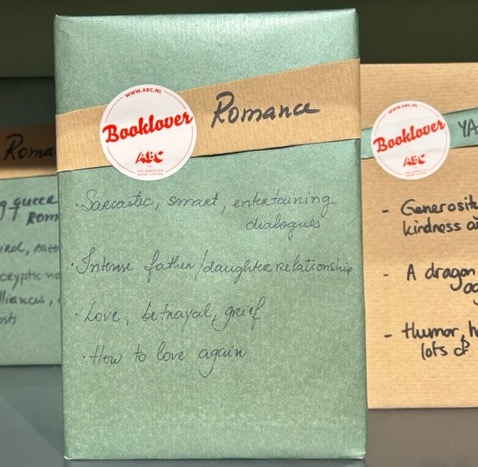 It's confirmed: our bestselling title at ABC Leidschendam in 2022 was the Blind Book Date!
So what, exactly, is a Blind Book Date, aka BBD?
It's a curated title we gift wrap with only a few clues—just enough to get people interested in the story. It is indeed a blind date with a book, one that won't send you endless texts if it wants to see you again.
We sold some 1,400 (!) BBDs in 2022, averaging 27 per week.
And we already sold 50 in the first week of January!
With so many weekly sales, we wholeheartedly thank the BBD-wrapping army of Renata, Emma V., and Sophie.
It was especially hard to keep our BBDs on the shelf during vacation. We want to thank all our ABC Leidschendam customers for daring to take the plunge on a book you knew very little about. We are grateful for your trust.
We'll keep trying to surprise you with new titles and fun clues in 2023! Because what's better than a blind date with no strings attached?