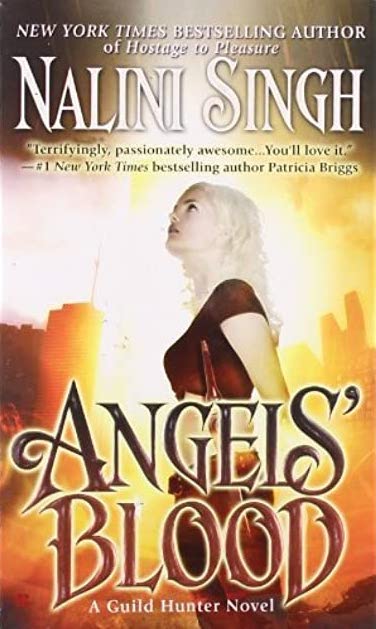 "Vampire hunter Elena Deveraux is hired by the dangerously beautiful Archangel Raphael. But this time, it's not a wayward vamp she has to track. It's an archangel gone bad.
The job will put Elena in the midst of a killing spree like no other - and pull her to the razor's edge of passion. Even if the hunt doesn't destroy her, succumbing to Raphael's seductive touch just may. For when archangels play, mortals break."
written by Lília
Angels' Blood, by Nalini Singh, is listed as a paranormal romance, but I consider it more of an urban fantasy romance. In a world where angels, archangels and vampires are a reality, humans are their worker bees and food source, with little value. Or so some think.
Elena Deveraux is a special kind of hunter. A Guild Hunter, she tracks down vampires for their angel masters. She'd rather not meet the archangels, all-powerful beings known for their cruelty. As a 'hunter-born'—humans who have a special talent to hunt vampires by smell—she's one of the best. She certainly is the best in New York City. So, when the Archangel of New York decides she's the one to hunt a being she knows nothing about, Elena wants to refuse.
Archangel Raphael is not only one of the most powerful, but he's also handsome, cold and almost cruel. Elena hates him at first sight; he makes her feel things she doesn't want to feel and forces her to do his bidding despite her refusals. Elena is aware of their attraction but does not want to fall into the trap of becoming his plaything.
Elena and Raphael dance around each other, slowly entangling themselves in a cat-and-mouse game in which they both get more than they've bargained for, making things more complicated and dangerous. At first, Raphael won't tell her what she needs to know, and when he finally opens that lid, Elena is aware that her life is likely on the line.
This book is the first in Nalini Singh's Guild Hunter series featuring Elena Deveraux and her lover, Archangel Raphael. It's a romance novel with a predictable HEA (Happily Ever After), but not exactly the one you'd expect. The most fascinating parts of this book are its world-building and the intricacies of angel society: archangels' interactions, the role of vampires, how humans position themselves in that world and how the Guild mediates between humans, vampires and angels. There are always more secrets people shouldn't know, and not everything is as it seems. People are flawed and make mistakes, but they have more facets than first appear. Take Raphael. You might hate him in the beginning, but by the end, you will love him as much as Elena.
Singh has a vision and carefully builds it up. With each new installment in this 15-part Guild Hunter series she entangles the reader in her story and makes us part of this fascinating world—an "angelic" one full of bloodlust and cruelty but also love and friendship in equal measure.