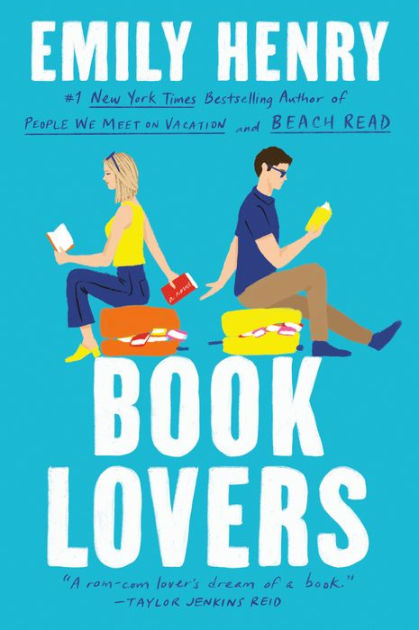 "One summer. Two rivals. A plot twist they didn't see coming...
Nora Stephens' life is books--she's read them all--and she is not that type of heroine. Not the plucky one, not the laidback dream girl, and especially not the sweetheart. In fact, the only people Nora is a heroine for are her clients, for whom she lands enormous deals as a cutthroat literary agent, and her beloved little sister Libby.
Which is why she agrees to go to Sunshine Falls, North Carolina for the month of August when Libby begs her for a sisters' trip away--with visions of a small town transformation for Nora, who she's convinced needs to become the heroine in her own story. But instead of picnics in meadows, or run-ins with a handsome country doctor or bulging-forearmed bartender, Nora keeps bumping into Charlie Lastra, a bookish brooding editor from back in the city. It would be a meet-cute if not for the fact that they've met many times and it's never been cute."
written by Lília
Feel like reading a story about the woman always left behind? The one who loves big cities and her career above all else? Then Book Lovers is for you.
Nora is what most people would call a cold career woman. Most of her ex-lovers leave her for innocent girls in smaller cities to lead quieter lives. She loves her career and doesn't ever want to leave New York City. So why would she voluntarily go to the countryside for a whole month? With bad Wi-Fi?
Enter her beloved little sister, Libby.
As a literary agent, Nora is a genius. But although she manages her authors well, she cannot manage her own life. Libby thinks a small-town transformation is just what Nora needs.
After Nora is dumped on the phone and has the worst meeting ever with an editor she despises, Libby convinces her to go to the small town of Sunshine Falls, North Carolina for a month. But Nora needs to keep in close touch with her writer, so it's hardly the ideal time. Her sister insists, and to keep the peace, Nora accepts. Once there, Nora meets her nemesis Charlie, and funnily enough, they work together editing her author's next book.
While working with Charlie, Nora learns more not only about him but about herself. As their relationship evolves, you realize Nora is more than the cold person she appeared to be at the beginning of the book. You understand her life choices and reactions.
I was quite surprised when I realized that the self-deprecating woman telling the story was actually the female lead. I wasn't convinced I wanted to read a romantic novel about a cold bitch. But the book is so funny that you keep going and quickly get to know and like Nora.
Libby is quite annoying, but she's Nora's only connection to her feelings and her past, the most important person in her life. Charlie shows up in small degrees, and through Nora's voice – because the whole book is narrated by Nora – you begin to understand him better.
What impressed me most is how Emily Henry manages to show her characters' diverse emotional journeys in such a beautiful way. Their lives may be different, but they all connect in ways that make sense.
I ended up loving this book so much that I made it one of my Staff Choices.
Emily Henry is also the author of Beach Read and People We Meet on Vacation, both best-sellers and wonderful summer reads.