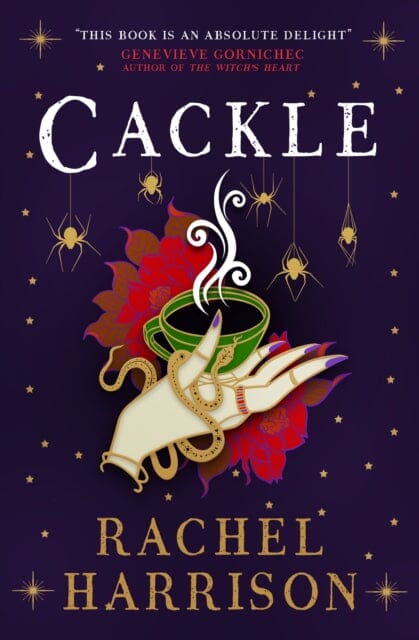 "All her life, Annie has played it nice and safe. After being unceremoniously dumped by her long-time boyfriend, Annie seeks a fresh start. She accepts a teaching job that moves her from Manhattan to a small village upstate. Her new home is picturesque and perfect. The people are all friendly and warm. Her new apartment is lovely too, minus the oddly persistent spider infestation.
Then Annie meets Sophie. Beautiful, charming, magnetic Sophie, who takes a special interest in Annie, who wants to be her friend. More importantly, she wants Annie to stop apologizing and start living for herself. That's how Sophie lives. Annie can't help but gravitate toward the self-possessed Sophie, wanting to spend more and more time with her, despite the fact that the rest of the town seems... a little afraid of her. And, okay. Sophie's appearance is uncanny and ageless, her mansion in the middle of the woods feels a little unearthly, and she does seem to wield a certain power . . . but she couldn't be . . . could she?"
written by EmmaV
Witchcraft has often been portrayed with fear or condescension. But nowadays, it seems to be seen in a more positive light: the modern witch is a figure of emancipation and independence, with a love for all things natural. She is single, make-up free and a DIY soap- and food maker. Maybe that's why so many books are being published with witchy main characters: they inspire readers to be true to themselves. Rachel Harrison's Cackle is one of my favorites in this genre.
Protagonist Annie is a hopeless 30-year-old who has lost everything: her boyfriend, and with that, her house, her friends, her happiness. This setup may bring to mind characters like Bridget Jones or Anne Brontë's Helen Graham, or any female character who either just broke up or continuously hears she should be married by now.
Regardless, this is the moment for radical change. Annie's new teaching position brings her from Manhattan to "a small village upstate." Houses in Rowan are small and cute; there is a picturesque gazebo and a weekly farmer's market. Life seems simple here, and people are friendly and caring.
It is at the local wine store that Annie meets Sophie, a beautiful and sophisticated lady, wearing velvet gowns with her hair loose or in intricate updos. Her extravagant and utterly feminine style is in sharp contrast to Annie, who displays little personality and nerve in her outfits. No wonder: Annie does not validate herself, unlike Sophie, who has been through a lot and is older than she seems.
But Annie will find herself, too, with Sophie's help. When Annie starts behaving differently (or even a little odd) under Sophie's influence, it is not something the townsfolk (read: ordinary people) approve of, but that is what comes from disregarding others' opinions. Of course, a strong and independent woman must be a witch (think: Joan of Arc), so Sophie (and later on, Annie) is feared and often the subject of gossip (to be honest, there are some scary moments involving Sophie or her creepy roommates).
But Sophie also teaches Annie valuable life lessons, like how to generate her sense of self worth from within and not seek it from lovers. This also means getting over her breakup with Sam, who said he dumped her because she was not good enough. It takes a lot of will power and a couple of mistakes for her to grow, but eventually, she gains friendship, strength and happiness.
I really like this book. I love its coziness but also its scary moments because they spice up the overall soft and mushy atmosphere and create a pleasant tenseness. Another asset is the realism of Harrison's characters: from laughing in inappropriate situations to feeling sick from being mentally uncomfortable, Harrison knows how to write authentic characters. I did find, however, that the ending was a little rushed; it could have benefitted from an explanation here and there. Still, I found the conclusion satisfactory.
I would definitely recommend this book, not only because it is such a warm and thrilling read, but also because it is inspiring: it contains the vital lesson that development is possible if you are willing to change and allow yourself to make mistakes along the way.