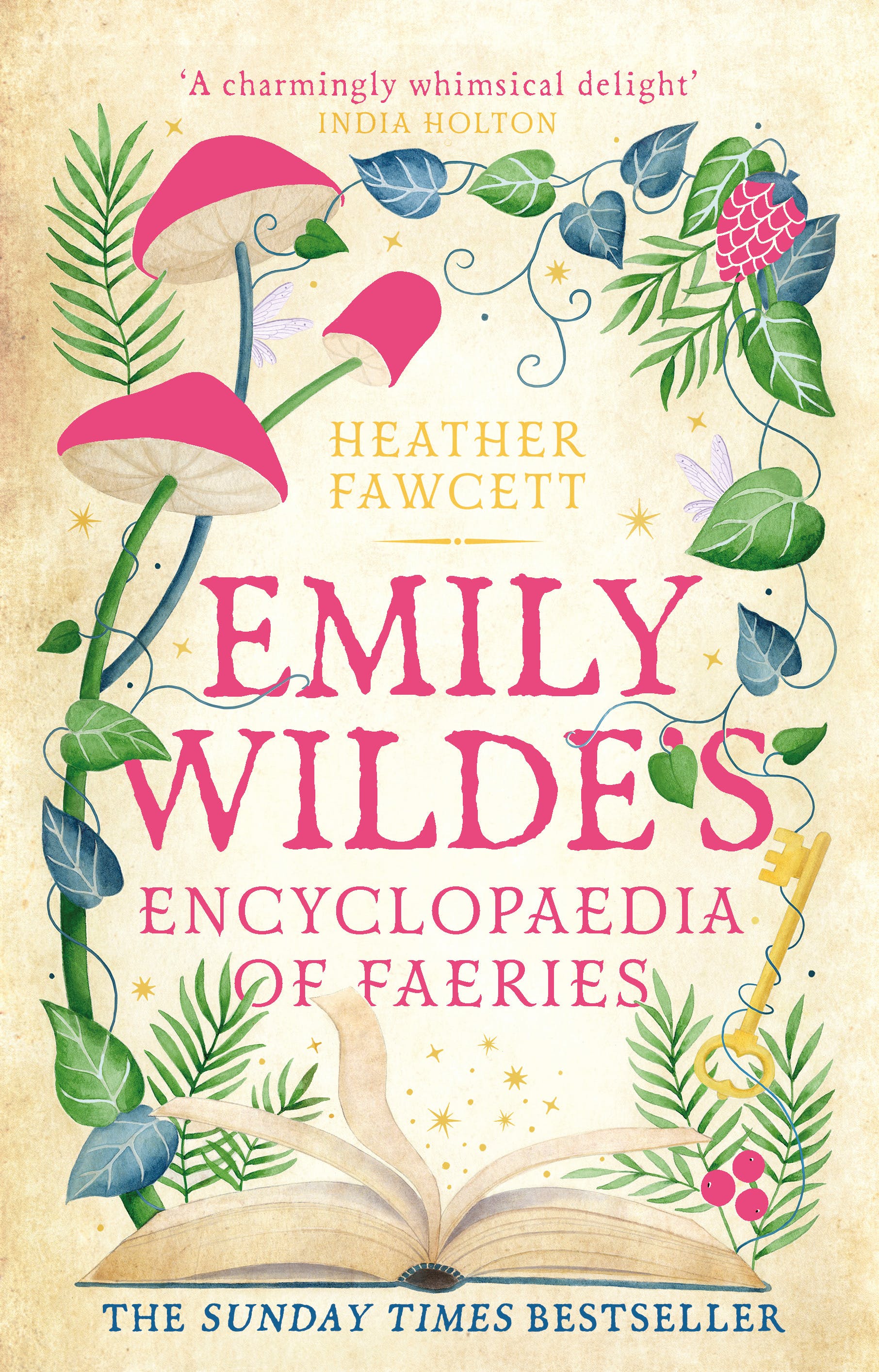 A curmudgeonly professor journeys to a small town to study faerie folklore, where she discovers dark fae magic, friendship, and love, in this heart-warming and enchanting fantasy. Emily Wilde is good at many things: she is the foremost expert on the study of faeries. She is a genius scholar and a meticulous researcher who is writing the world's first encylopaedia of faerie lore.
But Emily Wilde is not good at people. She could never make small talk at a party - much less get invited to one. Emily prefers the company of her books, her dog Shadow, and the Fair Folk to that of friends or lovers.
Written by Emma V
When frost melts: Emily Wilde's ventures into Ljosland and her own heart
Sometimes seeing the cover of a book is enough to arouse curiosity. Both the classic, dreamy UK version of Emily Wilde's Encyclopaedia of Faeries by Heather Fawcett in cream, and the much more eerie, dark US cover, pulled me in.
While the first, lighter version is covered in shiny pink mushrooms and green leaves, the latter has a black background, on which mushrooms in red, lilac and yellow are displayed, as well as skeletal arms creeping from behind the vegetation. With the first cover very dreamy, and the latter being definitely eerie, you almost wonder if inside these covers lies the same story.
However, Emily Wilde is a book about fairies, and if you know a little about the cultural phenomenon of fairies, you will know they are whimsical, ever-changing creatures, and so the duality the covers represent is fitting. Indeed, as expected with fairies, this story is full of magic and trickery, beautiful, snowy scenery and surprising small-town warmth—a  combination that cannot help but be an enchanting and exciting experience!
Emily Wilde's Encyclopedia of Faeries tells the story of Emily Wilde, a scholar of dryadology from the University of Cambridge, doing fieldwork in a place far from home. In the last stage before completing her encyclopedia, the work that could kick-start her academic career, Emily visits Ljosland, a snow-covered hamlet in Norway.
In reality, the place consists of only a couple of tourist cabins, a hotel and a small church. In this story, however, the place is inhabited by a close-knit group of villagers, including some very traditional figures such as a village head woman, a woodcutter and a tavern keeper. They care for each other and keep each other safe from the ice and other hidden dangers.
Emily realizes in only the few exchanges she has with them that the villagers have had contact with the fairies of the surrounding forests. However, the villagers distrust Emily, fearing she, while studying the creatures, may pull them to the village. Also, Emily's inadequate people skills make her cold and withdrawn, something of an outcast.
Soon after Emily's arrival, Wendell Bambleby, Emily's colleague from Cambridge, arrives in the village. While Emily is awkward, Bambleby is charming, making contact with the townspeople easily. But Emily, along with the villagers, suspects Bambleby is not just a man with a lot of flair. They think he stands much closer to fairies than he himself cares to admit: like fairies, his emotions shift from one to the next, he occasionally disappears into the landscape, and he is also very skilled at sewing and decorating.
After a while, however, the villagers' distrust of the newcomers turns into something warmer when the latter prove the positive use of their fairy-knowledge by helping the villagers retrieve two young women abducted by a parade of fairies.
This is only the start of a series of adventures into the fairy realm that the scholars and villagers embark upon together. Emily herself even gets trapped in fairyland at some point, but despite her fear, she treats this event as just another experience she can use for her studies. Her coldness and calculation come in handy, but they won't save her; she will need the help of others. These situations teach Emily to be vulnerable, to ask for help from other people and to open her heart.
One of the most striking things in this story  is the scenery, described in such detail it felt like I saw it before my eyes: from the snowy forest to the old fairy tree to the dark wooden cottages and the old and cozy tavern. The village itself and its its inhabitants create a warm atmosphere, which contrasts nicely  with the chilly environment and dark creatures living in it.
This book is categorized as a 'cozy fantasy,' a genre of books that usually includes tropes such as a small-town setting, found family and a touch of magic and romance—a lovely combination when you're in the mood for something sweet yet still exciting.