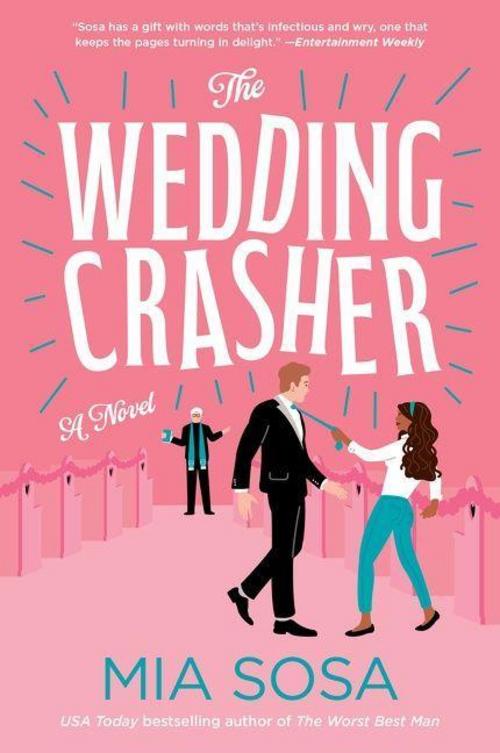 "Just weeks away from ditching DC for greener pastures, Solange Perreira is roped into helping her wedding planner cousin on a random couple's big day. It's an easy gig... until she stumbles upon a situation that convinces her the pair isn't meant to be. What's a true-blue romantic to do? Crash the wedding, of course. And ensure the unsuspecting groom doesn't make the biggest mistake of his life.
Dean Chapman had his future all mapped out. He was about to check off "start a family" and on track to "make partner" when his modern day marriage of convenience went up in smoke. Then he learns he might not land an assignment that could be his ticket to a promotion unless he has a significant other and, in a moment of panic, Dean claims to be in love with the woman who crashed his wedding. Oops.
Now Dean has a whole new item on his to-do list: beg Solange to be his pretend girlfriend. Solange feels a tiny bit bad about ruining Dean's wedding, so she agrees to play along. Yet as they fake-date their way around town, what started as a performance for Dean's colleagues turns into a connection that neither he nor Solange can deny. Their entire romance is a sham... there's no way these polar opposites could fall in love for real, right?"
written by Lília
Crashing a wedding without knowing either the groom or the bride? And after that, going for a fake relationship? What can possibly go wrong in this scenario? Maybe all of it?
While helping her cousin during a wedding, Solange learns the bride wants somebody other than the groom and, as the true-blue romantic she is, ends up crashing the wedding to save the groom from a life of misery. Dean, the groom, actually wants a wedding of convenience and sees himself in a difficult position. In order to become a partner at his law firm, he needs to have a "stable" relationship, and not getting married destroys his plans.
Dean convinces Solange to become his fake girlfriend for a couple of "dates" only. But of course, things get more complicated. Solange's Brazilian family is coming to visit and she needs a fake boyfriend herself—not Dean, but her best friend and roommate. Or so she's planning. But the best laid plans have a way of going awry…
It took me a bit of time to really get into this story, but once in, I could not put the book down. Solange is a very relatable character. Maybe because her family, like mine, is from Brazil and she was raised among Brazilian aunts and cousins, I could recognize her spunkiness. Her relationship with her family is very real, and it was fun to read phrases in good Portuguese.
Relating to Dean, though, was a bit of a struggle at first. He's so set in his ways and had decided early in life to avoid love. But with every encounter between Solange and Dean, you see both softening to the other, accepting their mutual attraction and trying to avoid it at the same time. They both start thinking about their life goals and the paths they set for themselves.
This book is one of those comedies of errors in which you know a train is going to cause damage but you can't avoid the wreckage. You want to see how the author will solve the situation and what the couple will look like once they're together. Because they will end up together! It's a romcom, after all.
The Wedding Crasher is a lovely read. Seeing well-adjusted Brazilian immigrants in the US, keeping their cultural values but adapting to their new surroundings, is great. I wonder if readers will miss translations for all the Portuguese phrases, but the really important ones are translated. This book certainly made me want to read more from Mia Sosa, starting with her previous book, The Worst Best Man, which tells the story of Solange's cousin Lina.