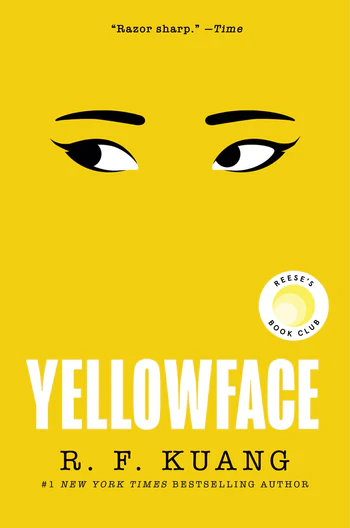 Athena Liu is a literary darling and June Hayward is literally nobody. When Athena dies in a freak accident, June steals her unpublished manuscript and publishes it as her own under the ambiguous name Juniper Song. But as evidence threatens June's stolen success, she will discover exactly how far she will go to keep what she thinks she deserves. What happens next is entirely everyone else's fault...
Written by Romy
When annoyingly perfect and multi-bestselling author Athena Liu dies, her friend – but not really a friend – June Hayward smells an opportunity. A glimpse of her dream. A chance to become the writer she has always wanted to be. Athena's unpublished manuscript. So, it's obvious to take it…right? Or is there, possibly, a darker side to June's impulse?
Yellowface is a book of many layers. Beneath the plot lurk deeper questions. Even if this had been June's book – would she, as a white woman, have had the right to write about the experience of Chinese laborers?
Both the unique perspective and the food for thought it offers make this book exquisite. With its contrasting sides, this novel is sourly enjoyable, frustratingly delightful, painfully delicious and made me want to pull my hair out at times, but in the best way possible.