Written by Lília
We all have t-shirts with tears, socks with holes in the heel, jeans torn from the friction between our thighs. You get the idea. Most of the time, the garments we've loved to death are all still very wearable, if not for those pesky details. So, what can we do to make our clothes last longer?
Inspired by my blog post about the lack of sustainability in the fast fashion world, I decided to share some tools to mend your clothes –  if that's how you lean. My experience has been that if you can mend the clothes you love, you will actually do it. Going to a tailor has become expensive, so why not try your own hand at mending? You might even discover a passion for it, as I did when I started making my own clothes.
Before I learned how to sew, I would simply throw away perfectly good jeans because they would be threadbare between the legs. Now that I know how to fix them, thinking about mending is an extension of sewing. The wonder of mending is that you don't really need to know how to sew clothes. It helps, but it's not a necessity. You do need to learn some techniques, but they will go a long way in preserving most of your wardrobe.
Some examples of what we've been mending at ABC: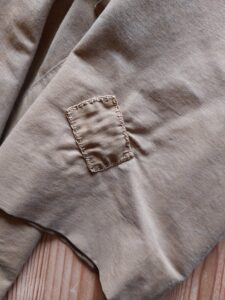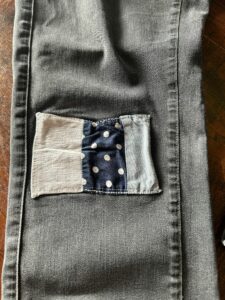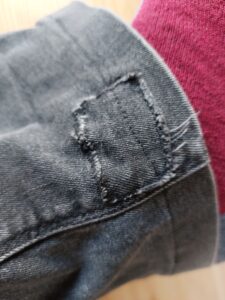 The following books have helped me to not only learn how to mend the way I'd like to do, but have introduced me to possibilities I hadn't even thought of.
The first four titles are perfect for beginners, while the last three are for more experienced or adventurous menders. Whatever kind of mending you want to do and no matter your level, you're sure to find some techniques in these pages!
Mending Matters was the first book I read on mending. I am completely in love with its premise and insights. Katrina Rodabaugh is a teacher and a forager, dedicated to a more natural way of dying fabrics, using natural fibers as much as possible and mending whatever she already has. The premise of this book is understanding that "we do not need to acquire professional mending techniques to repair our clothes. We just need to know a few simple stitches and slow down our fashion consumption."
This book inspired me to try things out. When I accidentally made a hole in the hem of my jeans, I decided to go for an almost invisible mending and simply patched it up with a piece of the same cloth. Nobody notices since it's in the hem, and it prolonged the life of a beloved pair of jeans that, years later, I'm still wearing.
Wear, Repair, Repurpose is a more modern take on the art of mending. Lily Fulop is a graphic designer dedicated not only to mending, but also to repurposing whatever is lying around. By repurposing and upcycling, we can reclaim what we have in our closets while reducing fashion waste—a win-win in my book.
Mending Life is a celebration of not only mending clothes, but mending our lives through age-old techniques. It is, as the book jacket rightly says, "a beautifully illustrated, practical tool kit for repairing the clothes and belongings we love. It also explores how mending can be a gently healing practice in our daily lives and a small act of rebellion in a world where many things are discarded without thought." Sonya and Nina Montenegro are sisters and artists in the wide sense of the word and practice and appreciate mending as a way of expressing themselves and the love they feel for their own garments. They present different techniques to mend, repair and change clothes.
Modern Mending by Erin Lewis-Fitzgerald is a book I only discovered recently and haven't had the time to explore in depth. But it certainly appears to be a very thorough and complete book on the art of mending, with some different techniques from those found in the other books on this list. Worth checking out, for sure!
Sashiko for Making and Mending is the translation of a Japanese book on sashiko, a centuries old Japanese tradition of mending and reinforcing clothes. Not only a tradition and a technique, sashiko is also a way of living, of enjoying the process and the clothes we mend. Saki Iiduka gifts us 15 Japanese embroidery projects to enrich our lives and garments. "This book teaches many easy variations of the traditional sashiko stitches – highlighting the impact simple, well-executed stitching can have on everything from embellishing napkins to repairing a jacket. Its gorgeous, thoughtful aesthetic and high functionality make sashiko the perfect all-purpose embroidery!" Sashiko is a beautiful technique with an even more beautiful meaning: preserve the clothes you have by making them even more glorious.
Make, Sew and Mend is in its own way as much a celebration of old tailoring techniques as Sashiko for Making and Mending. Bernadette Banner is a popular historical fashion YouTuber who worked in costume design for Broadway before she moved to England. Taking the Western approach, she shows us traditional tailoring techniques—such as preparing the fabric, thread marking and finishing edges—in a simple and direct way.
The techniques she uses are all hand-sewn, so you don't need a sewing machine to master her methods.
Mending and Alterations Made Simple was originally published in Italian and features many techniques to mend and alter whatever you have in your wardrobe. Anna de Leo shows us different methods, from sewing by hand to using a sewing machine and even a serger. This book utilizes a more advanced approach on tailoring, even though it claims you don't need to know how to sew to be able to use it. Let me know if you try it!