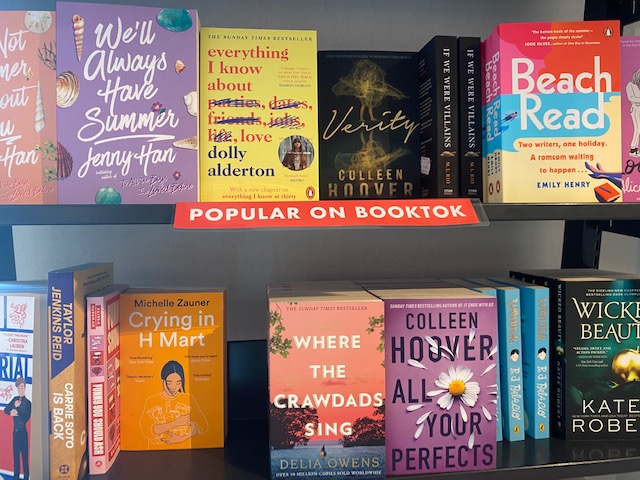 If you lead teens to #BookTok, you won't have to make them read
(Hint: they'll do it on their own)
written by Lauren
As a lifelong reader, I always found it disheartening that my daughters didn't take to the written word. They inherited other, less desirable behavioral traits, but despite years of bedtime Shel Silverstein poems and Judy Blume books, reading seemed as alien as doing the dishes.
So, when I started working with ABC, I asked Maria, our young adult (YA) book specialist, how I could get my teens to read.
"BookTok," she said without missing a beat.
"Excuse me?"
"BookTok."
I'd heard of TikTok, but BookTok? Turns out this tok within a tok is a dedicated community of readers and reviewers whose short, often-viral video recommendations have created a new wave of bookish influencers. For the generationally-challenged out there (myself included), think of BookTok as a hip, globally accessible, steroid-infused Oprah's Book Club.
The numbers say it all: the BookTok hashtag has garnered a mind-boggling 78.2 billion views (probably 79.1 billion between the writing of this article and its publishing), helping to jump start the careers of new authors while sending older ones back to the top of bestseller lists. 

But it's also created a new generation of readers, many of them young. While no genre escapes BookTok's reach, many creators focus on young adult fiction or fantasy and romance novels—the stuff of the young. And that draws in the tweens and the teens, like Jakub Stienezen, who I met at a Schiphol airport bookstore in its BookTok section (yes—booksellers have also taken notice of the phenomenon).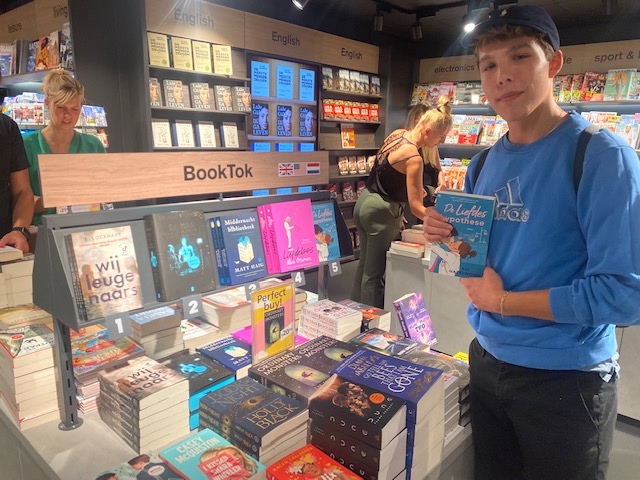 "I started using BookTok four months ago. Before that, I never really read a book," says the 18-year-old from Arnhem. "But when I saw something on my feed page, I just started reading books." Some 40 to 50 of them—more than 10 books a month—including Ali Hazelwood's BookTok sensation The Love Hypothesis, which he holds up proudly. "It's just so inspiring to me that something on BookTok can change my whole life. I'm reading every single book I can find that interests me even a little. It's really a life-changing thing."
Stienezen says he was drawn in by BookTokkers who looked like him and seemed to know his interests. My 17-year-old daughter, Sophie, says much the same.
"I wanted to read, and my mother told me about BookTok, so I looked there for recommendations and it inspired me," she says. She's read a few books since the summer, including It Ends With Us by another BookTok superstar, Colleen Hoover. "A lot of people were recommending it. I'm more likely to take a recommendation from a BookTokker who knows what my interests are and is more my age than from my mother."
Insult aside, along with my concern that kids seem to trust that TikTok's algorithm understands them (and that it actually may), whatever gets her to crack a binding is good with me. The first adult novel I read in junior high school, pulled directly off my mother's bookshelf, was Sidney Sheldon's The Naked Face, followed in quick succession by Jacqueline Susann's Valley of the Dolls. It wasn't pretty. But I've had a book in my hands ever since.
Giving teens the opportunity to read what they want, says ABC's Maria, is crucial to getting them to read in the first place. "If they really want to read a manga, young adult or romance book, that's great. Don't force them to read a fiction book or a certain classic that you read when you were young. And if they aren't interested in books, try comics. That's how I started reading when I was young. It will be a gateway to reading great and exciting stories and maybe will eventually lead to reading books."
Maria has a whole litany of what she loves about BookTok. "I love that it has brought so many new readers to love books. I love that books that have been out for a few years suddenly turn into bestsellers. I love that when BookTok started, some people who had only read one book in their life suddenly have a bookcase filled with books they want to read."
In fact, the only downside she can think of is that BookTok has left booksellers playing catch-up. "BookTok has been such a surprise for suppliers, publishers and bookstores that sometimes, a book will be permanently out of stock until new books are printed. The unpredictability of BookTok can be quite difficult."
But no one is doubting BookTok's game-changing influence on the publishing industry and readers. When my daughter recently finished her Colleen Hoover book, she told me she was running out to ABC to buy a new one because she didn't have a book to read and "couldn't be without one."
Thank you, Maria. And thank you, BookTok.