Written by Lynn and Steve Malenka
Steve Malenka, who worked at ABC in the 1970s—first as fiction and gay book buyer, later as manager of the Book Bar, which sold Sammy's Hotdogs as well as remainder books for one guilder a piece—has some wild memories to share. Here's a photo of three of his colleagues—Maggie, Michael and manager Leo Bretholz.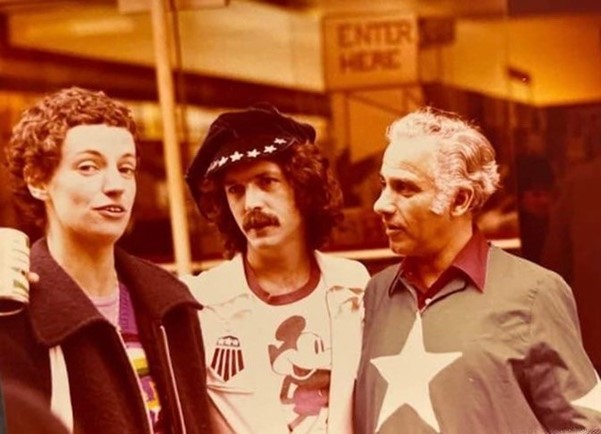 Maggie, who was silent on Mondays and dyed her hair green or blue or purple before punkers did; Michael , who started Amsterdam's first gay bookstore in 1975, Wilde!; and Leo Bretholz, Holocaust survivor and ABC manager from 1974-May 1977.
In Steve's words:
Yes, that's Marijuana Maggie, as known by her inner circle of friends. Maggie was from New Zealand and yes, she was a trained concert violinist. Amsterdam and ABC gave Maggie the chance to open her mind and become her authentic self.
She was the ABC buyer for science fiction, and her green, pink and blue hair suited her and her job title! While now crazy-colored hair is an everyday sight, back then it was very daring and certainly did not go unnoticed by ABC clients.
Maggie was one of a kind—a very deep thinker about alternative healing and  psychological mind expansion and improvement…thus the nickname "Marijuana Maggie."
"Open your mind, the rest will follow," was one of her favorite sayings. Maggie moved back to New Zealand in the late 80s and became a healer and massage/touch therapist. She lives on a farm on the South island to this day with her female partner of 30 years.
She has health issues, as we all do age 70 and above. But as far as I know…she is happy! What a great time I had working with Maggie at ABC and having her as a friend!
Michael—raised as a capital page in Washington, DC and groomed to be the beau of one of the daughters of President Lyndon Johnson in 1960's America—was much too GAY for that role.
He landed in Amsterdam in '75 and pushed his way into ABC. Somehow or other, he endeared himself to Leo Bretholz, the manager from Baltimore at the time. In less than one year, he opened the first gay book magazine shop in Amsterdam for ABC, which was located at what is now The Seafood Bar in the Art Nouveau gem of  a building on the corner of Spui and Voetboogstraat.
The shop was short-lived due to Michael's state of mind—alcoholic to say the least—BUT a new department was created for the nascent  gay pride movement taking place in Amsterdam and the world at that time.
The gay magazine and book department moved back into ABC's main shop and became a hub of gay activity during the 1970s and 80s. It was a very exciting time for Amsterdam and certainly for the gay world and the ABC bookshop—where LGBTQ is now in another phase for the 2020s and beyond!
Addendum by Lynn: Leo Bretholz comes to manage
Mitch returned to Baltimore for summer vacation in 1974 and swapped stores with Sam, taking over Sam's bookstore in Towson, Maryland in the US.
Sam sent Leo Bretholz, then 53, to manage the store on the Kalverstraat. His wife Flo and daughters Denise and Edie came with him, although Leo was a bit anxious about returning to the Europe he had fled as a boy during wartime. But, as ever, he made the best of it.
Leo was a talker, full of uncountable jokes, who would engage customers and neighbors and staff members in lively conversation in a minute. A kind man, Leo worked hard to understand our very diverse staff and to make perfect book orders, which were handwritten on carbon copy paper in those days and sent by airmail back to Baltimore to be filled.
He was also a Holocaust survivor who lost 53 family members to the Nazis.
When Leo and his family returned to Baltimore in 1977 to manage the Towson store, one of the regular customers, journalist Michael Olesker, came in on Saturdays to hear Leo recount his stories.
Leo had fled Vienna in 1938 as a young Jewish boy. He swam cold rivers, was imprisoned, escaped, caught again, shipped to Auschwitz and jumped from a cattle car to freedom…before being caught again and escaping once again. Olesker convinced Leo to write his story, which became Leap Into Darkness.
After his retirement, Leo took his stories to schools and universities. The book was translated into several languages, including Dutch and French, and Leo and his family came to Amsterdam on a book tour. Film rights were sold, and Leo featured in a television documentary series.
You can watch him here.
Leo remained in Pikesville, Maryland until his death at the age of 93 on March 8, 2014. You can read—and watch—more about him in the United States Holocaust Memorial Museum's Holocaust Encyclopedia.