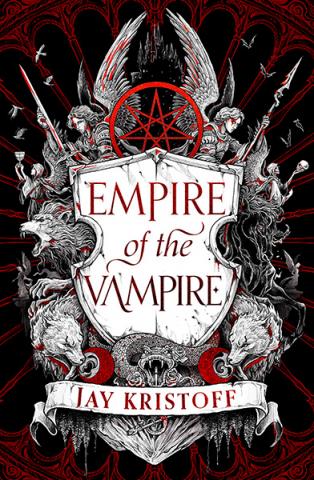 "From New York Times bestselling author Jay Kristoff comes Empire of the Vampire, the first illustrated volume of an astonishing new dark fantasy saga.
For nearly three decades, vampires have waged war against humanity; building their eternal empire even as they tear down our own. Now, only a few tiny sparks of light endure in a sea of darkness.
Gabriël de Leon, half man, half monster and last remaining silversaint - a sworn brother of the holy Silver Order dedicated to defending the realm from the creatures of the night - is all that stands between the world and its end."
written by Maria
Empire of the Vampire is the first book in a fantasy trilogy. It tells the story of Gabriël de León and the downfall of the world as humans know it.
A dark fantasy with good world-building, the book begins with a doomed world: the sun is blocked out and the few people who can save it are either gone or have no hope.
Gabriël de Leon, the story's narrator, is one of those people. But his storytelling is not linear. He could be in the midst of telling one story, but then switch to another time in history, taking the reader on a different journey altogether.
It can be frustrating at times to make the switch, especially when you are quite heavily invested in a particular part that was getting exciting! But that is the hidden genius of this book: you constantly want to keep on reading precisely because of the timeline switches in Gabriël's story.
But the best part of this fantasy is its main character. Gabriël is either a young hopeful Silversaint with a stubborn personality and indefatigable will or an older, bitter drug addict who sees the world for what it is: a dark, rotten, vampire-invested hole that has no hope.
Between these two Gabriëls lies a reason for his metamorphosis, and the more you see the contrast between the two, the more you want to find out what happened.
This book starts off slow, introducing you to the world and its characters, but halfway through the story the pace picks up and keeps the excitement going until it comes to an epic conclusion.
Also, I need to mention the book's 40 absolutely stunning illustrations. It's such a fantastic idea to include these drawings by the talented artist Bon Orthwick; they enhance the story and its characters.
All in all, Empire of the Vampire is a fantastic start to a trilogy. I cannot wait to read more of Gabriël and see how his world is going to either be completely destroyed or gain some hope at last.