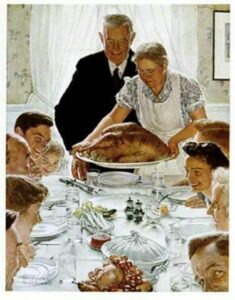 written by Lynn
The wish to celebrate Thanksgiving with booklovers, staff and people homesick for that Thanksgiving experience springs from a homey image of people from sea to shining sea, from prison canteens to five-star hotels, all eating the same menu at the same time. There's always room at the table for unexpected guests, where food is abundant and often homegrown.
We also want to show gratitude to our customers and to our new country for letting us come, stay, grow bookstores and a family. According to a press release we sent out in 1991, "The past two years our store has celebrated Thanksgiving Day as an occasion of cross-cultural friendship and gratitude to our customers. In thanks, we give everyone a 10% extra discount this one day. This year we'd like to commemorate the Indians [how times have changed!], for whom Thanksgiving Day is not a happy occasion."
That weekend in 1991, we held a Trading Post where Mohawk Nation and other related groups shared information, music and hundreds of books on First Peoples in the Fourth Floor Gallery above our Amsterdam store.
We hosted our first Thanksgiving Dinner in 1994, held in the Singel Kerk together with our AIDS buddies—a nod of respect to so many of our early colleagues who died from the disease. The dishwasher overflowed; it couldn't handle all the leftover mashed potatoes, and panic took over the kitchen. Everyone was invited to perform music or share writing or a poem – a prelude to our Open Mike Night.
Once we rented the ABC Treehouse space in 1998, we were able to host a semi-potluck Thanksgiving Dinner the right way – with kids running around, wine spills on the floor, laughter and meetings of old friends and new. Once we tried a group sing-a-long. A basic menu was enhanced by the semi-potluck aspect – all diners agreed to bring an appetizer or dessert to share, keeping the price down. Beverage sales were donated to a good cause.
When we lost the ABC Treehouse, the dinner also had to go. Luckily, Gary Feingold of Café Bel Campo was willing to hold Thanksgiving there, with the same catering crew, same semi-potluck aspect.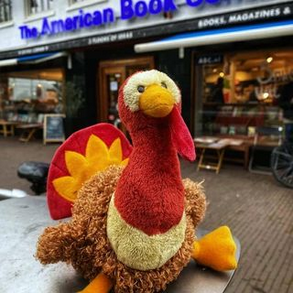 Willard represents the turkeys who get lucky enough not to end up on the dinner table, and in gratitude, likes to give customers a hug. He makes a "krrr" sound when you push the button on his still-intact turkey breast. After sleeping in a drawer all year, Willard is looking for some lovin' on his one day out. Normally staid customers melt when Willard snuggles up to their necks and gobbles.
In the mood for more stories of thanks? Here are several recommended resources: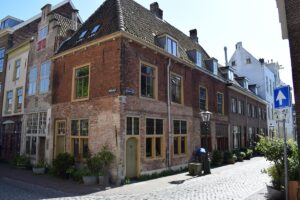 This year I visited the Leiden American Pilgrim museum for the first time. (I've only been here 50 years!) In the heart of charming Leiden, it's definitely worth a visit. And what a wonderful small space it is, full of carefully curated, highly interesting objects, books, a bed cupboard and excellent guides. (Did you know that Dutch pilgrims brought the ladderback chair, an early version of the hockey stick and even Leiden's institution of civil marriage with them across the Atlantic? Not to mention the federal system of government!)
We also haven't forgotten that our migrant fore-parents took over the land and way of life of North America's First Peoples. The 14-minute film Lakota in America shows the personal story of Genevieve Iron Lightning, a young Lakota dancer on the impoverished Cheyenne River Reservation who uses her people's once-banned traditions to help create a better economic and cultural future. It has been viewed millions of times on YouTube, and for good reason. (If you can't watch the whole film, cut to the last three minutes for dancing and scenes of hope.)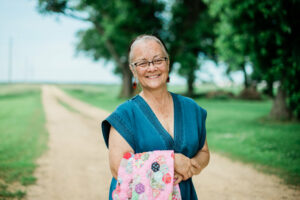 In closing, here's a Navajo prayer I learned many years ago at a course on Women's Entrepreneurship in Amsterdam—"Now I Walk in Beauty"—that captures the mood of the season.
Now I walk in beauty
Beauty is beside me
Beauty is behind me
Above me and below me.
Especially now, for so many reasons….for the beauty that surrounds us…..for the hope that drives us…..for the help we get and give…it feels good to give Thanks.