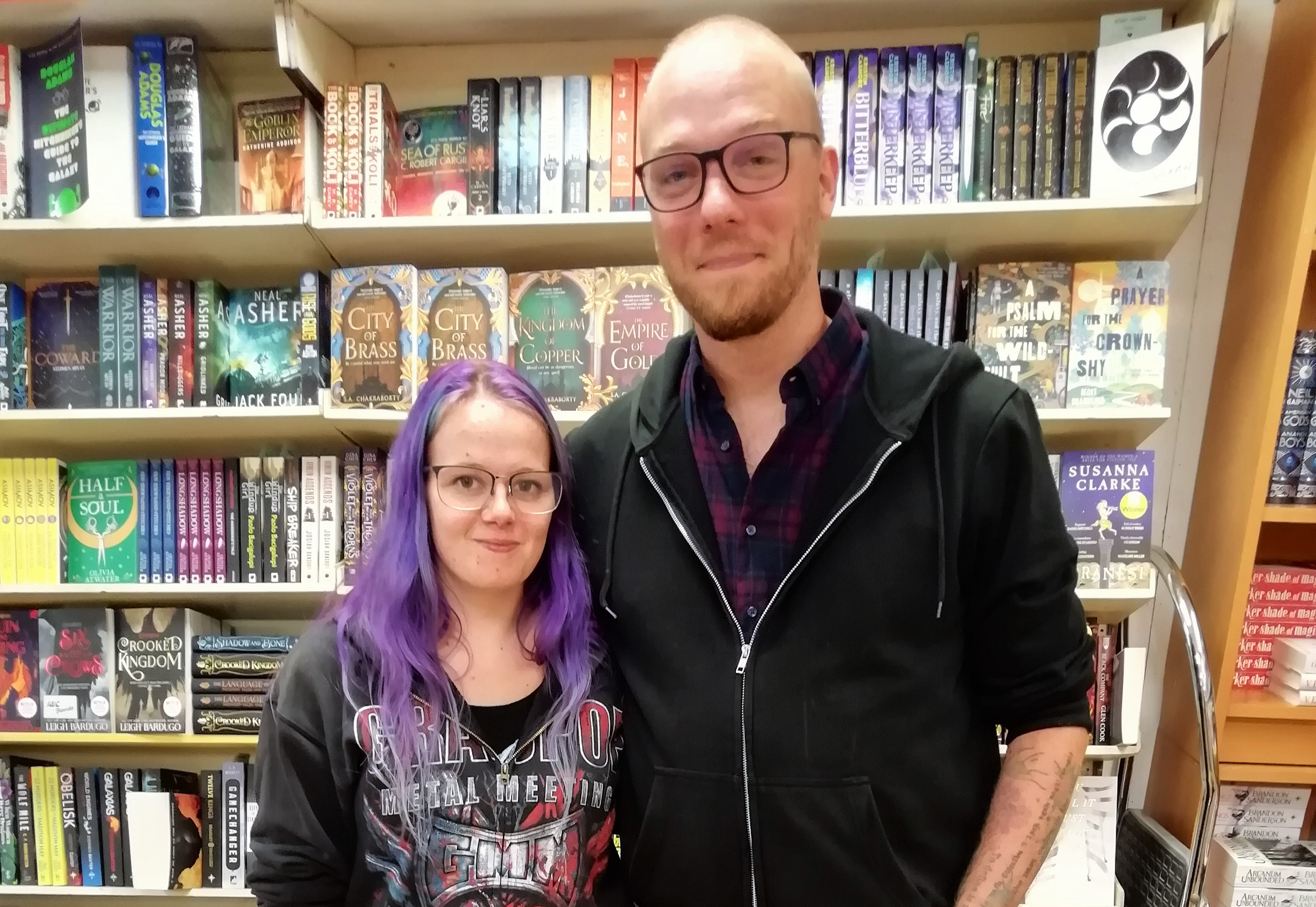 Peter and Lotte
Longtime customer Peter introduced his wife, Lotte, to ABC. But that was only the beginning of their love story. Read on to see how they gave new meaning to the phrase "book lovers" (with a little help from Covid, timing and ABC staff).
ABC Lília: Peter and Lotte, it's great to finally meet you. I've heard great things about you guys!
Peter and Lotte: It's really nice you've invited us for an interview.
ABC Lília: I'm curious how you discovered ABC, and how long you've been coming here.
Peter: For me, it's been a long time. I was in Amsterdam to meet a friend when the store was still on Kalverstraat, and while walking around the city center, I found ABC and was immediately hooked. I loved the atmosphere! I love board games, and the ABC was a great discovery, with all those board games in English. And the fantasy books! Later I found out there was also a store in The Hague, and since I lived nearby, it became my "go-to bookstore."
Lotte: I had been in ABC in The Hague before, but started really discovering ABC through Peter, about five years ago. We both love books and bookstores, and the atmosphere here is so welcoming! You always have books we want to read, so it's really the bookstore to go to for our reading needs.
ABC Lília: So that's why you shop with us, because the atmosphere is so welcoming?
Peter: For sure! I'm moved by emotion and atmosphere, and if I feel the right emotions at a certain place, I will come back. I'm a big fantasy and Dungeons and Dragons (D&D) fan, and I always find something interesting at ABC.
Lotte: The ABC is one of the few stores that really offers English language books in the neighborhood. The other stores don't offer enough, or the atmosphere is not very welcoming.
Peter: And the second-hand books at the store in The Hague! We always find good books among them, too.. And while looking around for books, you meet people and exchange comments, ideas and recommendations. Super nice.
ABC Lília: How important is it for you to support an independent bookstore?
Peter: Very important. The smaller the better! I'd rather pay a bit more and be able to go to a store, choose what I or we want, and maybe order something we can't find than have to go through online stores. I'm a teacher, with a teacher's discount, so we order on my account.
ABC Lília: Is there a book or an author who changed your life? And what changed–for each of you?
Peter: For me, it's always going to be Terry Pratchett. I love his writing style, his way of looking at the world, the jokes. All with a hint of seriousness, but always in a fun way. It's a little bit over the top, but not enough to make it look ridiculous. Just enough to make you laugh and then think about the world around you. He can describe a character with very few words. With just a couple of sentences, you know what the character looks like and its personality and behavior . It's great writing. We love his books so much and have many different editions at home.
Lotte: At least four of each title, in different formats. We keep looking for different editions of the books we love—hardcover, library editions, you name it. Whenever we go to bookstores, we buy a library edition of a title of his Discworld series, write down when we bought it, where we were and why we bought it.
Peter: I'm a great Terry Pratchett fan! He came to the Netherlands once, during an Elf Book Fair. I wanted him to sign a book for me, but because it was for the Dutch market, I would have had to buy a book translated into Dutch so that he could sign it. I didn't do it, but I regret it. I should have done it!
ABC Lília: And who's the most important author for you, Lotte?
Lotte: There are a few authors whose every book I love, like Marissa Meyer. She's an author I come back to when I'm in a slump. But I think Alice Oseman is the author I would have wanted to read in my teenage years, when I was around 14, because the way she writes, and what she writes about, resonates so much with me. Especially Loveless. I wish I could have read her books when I was younger. It would have helped me a lot!
ABC Lília: Do you guys have an ABC anecdote to share?
Peter: I sure have a few, but I'd say the most important one is our engagement!
Lotte: Yeah, that's the only one that I can actively remember.
ABC Lília: I've heard about that one, but not from you two. Would you like to share it?
Peter: I was already planning to ask Lotte to marry me, and I wanted it to be in a bookstore or in a library because these are her preferred places. I was still thinking about how to do it when the whole Covid-19 situation happened and all the stores closed. What to do? Fortunately, you guys started having those time slots for customers to come to the store, and it was the perfect scenario, because we could be there just the two of us. Since we were both free the next day, I had to sort things out quickly. I called the store, talked to Simone, and arranged for a time slot for the next day—my birthday, which was a good excuse to go there. She organized it so Sophie and Iris W. would be there to take pictures and help me with the whole setting. It was a bit of a rush—we only had… minutes—but we managed, and it was great!
Lotte: I was so upset with him! Before I knew what was going to happen, of course. I was planning to make an appointment for his birthday, but he made it before I had the chance to do it, and I didn't know what else I was going to give him. I was really peeved! But I forgave him after he asked me to marry him.
Peter: I was planning to come up with a certain edition of one of Marissa Meyers' books, but couldn't find it, so it became a Terry Pratchett. It was a great moment, with me on my knee, ABC personnel clapping and many pictures taken.
ABC Lília: It had a great impact on us, for sure! Sophie and Iris talked about it with the rest of us, how cool the whole moment had been. That's for certain a great anecdote. Moving along…which book or author would you recommend?
Lotte: At this moment, Brandon Sanderson. He's 100% a favorite of mine and has written more than enough books to choose from. And Alice Oseman, always.
Peter: Terry Pratchett, but that's maybe for the older generation. Becky Chambers is a great author, very open in the way she presents society, cozy and homey. And Ann Leckie.
Lotte: Ann Leckie and Becky Chambers were both recommended by Sophie. We get many recommendations from Sophie and Iris W., and they are always good. And Tamsyn Muir, the author of Harrow the Ninth.
Peter: Ann Leckie, with Ancillary Justice, is great. I love the world building. I needed a lot of time to process the whole setting, but her use of language is amazing.
ABC Lília: What was the last book you've read? Or that you're reading at the moment?
Lotte: The Way of Shadows, the first book of the Night Angel trilogy by Brent Weeks, after just having finished the entire Mistborn series by Brandon Sanderson.
Peter: I'm reading two books at the same time. One is All Systems Red by Martha Wells, the first installment of The Murderbot Diaries, that was lent to me. The other one is Beneath the Rising by Premee Mohamed. I love cosmic horror, and this book scared me so much that I've been trying to find the courage to continue.
ABC Lília: Peter and Lotte, it was great talking to you. Thanks for your time!