Interview: A Story On the EBM machine
Hi María! Thank you for taking the time to chat about yourself and our famous EBM Betty. Before we jump into who Betty is, I think our readers would also  love to get to know you better. Could you tell me something about yourself?
I am from New York City; born and raised. I am Latinx; Puerto Rican on my mother's side and Dominican on my father's side. I've lived in the Netherlands for 37 years and in October 2022 I will have worked at the ABC for 30 years. I am the head of Betty the Book Machine printing department and the technician for the Espresso Book Machine in Europe.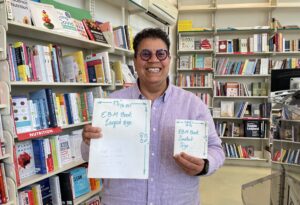 So you are the only EBM technician in the entire continent of Europe? That is mind-blowing!
Yup, I have traveled to France, Italy and Ireland to install and repair EBM's . I speak six languages which came in handy working in France and Italy. And yet the most communication confusion happened with Ireland. Consequently the result of taking English for granted.
I studied music composition in college so it was quite a surprise to discover, at 50, that I was technical. John, the EBM engineer, and I got on. It is important not only to speak English but to speak John. After working with him and talking to him for so many years I became an expert. So, if international EBM's had trouble, I was on their speed dial.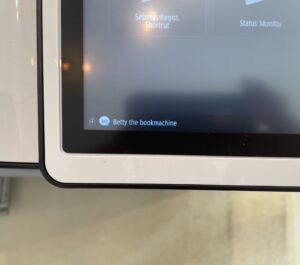 I can imagine that it's confusing for the readers who don't know what an EBM is. Could you introduce our Betty to them?
Betty is an EBM. The EBM is an abbreviation for the Espresso Book Machine invented by Jeff Marsh and produced by On Demand Books founded by Jason Epstein, Dane Neller and Thor Sigvaldason. It is a print on demand machine. By the time you drink an espresso, the book is ready; an ATM for books. It prints, binds and trims a single book.
I'm curious about Betty's successes. Could you share the most memorable books printed on Betty with us?
Every book printed on Betty is a success. And the hard to print books are the most memorable. My take on this is technical, but that's when it gets interesting for me. Two years ago there was a Betty Order for 60 copies of a book that was a portrait of the players in an orchestra. Two pages were dedicated to each musician with color photos and text. It was a great idea and a beautiful book. Of course there was a huge problem and a deadline. The cover would print fine, but after going through the movements in the machine it would get badly scratched. Oy,  what to do?. My solution was to print all the covers ahead of time and let them dry overnight. It worked. I made the deadline.
To see all the books we print on Betty that are for sale at ABC check out these links:
Who came up with the name Betty? It's such a fun and odd name for a book printing machine.
When we first got the machine, much went wrong. I would spend long nights repairing electrical glitches, replacing motors, adjusting robot rotation positions all while talking to John the EBM engineer. I had to work in the evenings, because that's when John was awake in America. After spending so much time with Betty, it did not feel right to call her an 'it'. So Betty became Betty. At an EMB meeting I slipped and said Betty instead of the machine and a marketing sensation was born.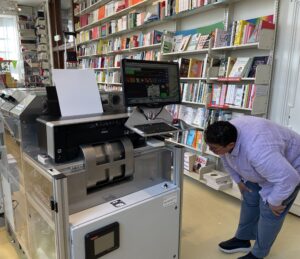 What does a typical day look like for Betty?
Betty is a morning machine. Most of the printing I do is from 8:00 to 12:00. It is easier to print when the store is empty. I drink my tea and watch Betty work it, making sure nothing goes wrong like paper or motor jams to keep her running smoothly. When the printing is done,  I clean out Betty's trash bin, replenish her glue and give her a rest. I then go to my desk and check emails and check files to get them print-ready for the next print run.
What are some of the best and worst moments of working with Betty?
One time we had a customer that needed a book, but was leaving the country in a few hours and could not wait for a 2 week delivery time. No problem, the book could be printed on Betty  in ten minutes. The customer was gobsmacked, thrilled and made their plane with the freshly printed book in the bag.
The worst thing that could happen with Betty is to have a tight deadline and a demo on the same day then have her breakdown. This happened in early January. It ended up being a tricky electrical problem. It was hard to pinpoint because the upper part of the machine would go dead and then come to life again. Frustrating, but I found the culprit. I made the deadline and the demo went swimmingly. As strange as this may sound, when something goes wrong it becomes intriguing to me. I try to put aside the stress as much as I can and have fun.
What has also happened is that Betty does not really like it when I go on vacation. It's almost comical. I'll get a call from work, while on the beach in Calabria, Italy. I can get into Betty's inner workings on my iphone. After a few magical taps I can fix the problem with my feet still in the sand. If the problem is mechanical, it waits until I get back.
A little birdie told me that Betty has had a make-over. Could you tell me about her new upgrade?
The new upgrade is our Canon imagePress C165. It prints 65 pages per minute and has great image quality. It is a laser printer where the ink is made up of toner and wax; making it a smoother image. It is a graphics printer so now we hope to entice our customers to print their comic books and manga. My name for the Canon is 'the Beast'. So I hope that 'Betty and the Beast' will produce many great books together.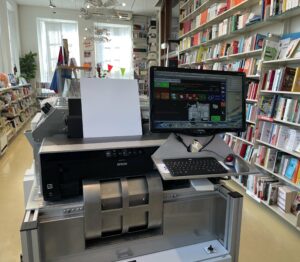 If someone is interested in collaborating with Betty, how can they start the process?
The details are on our website. I need two PDF files; one for the bookblock and one for the cover. Once these pass inspection and are uploaded to Betty, I press a button and Betty & the Beast do their thing. Betty is completely transparent so you can watch the printing, binding and trimming processes. The book is then dropped into the book chute and out into the world.
Before you and Betty go back to printing books, is there anything else our readers should know about working with Betty?
Betty makes it possible to print your book. It can be as private or as public as you would like to make it. We answer your emails and calls. Our small scale allows for ABC's perennial 'personal touch'. Let Betty and the Beast put you in print!