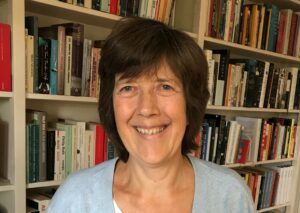 As we celebrate 50 years of ABC, we've asked some people that have been working with us as publishing house representatives to share their insights into the funny world that is publishing and bookselling.
Today we have Account Sales Manager Pauline Konink, who has been working at Random House UK for the past 15 years.
Hi Pauline! Thank you for taking the time to chat about yourself and your work at Random House UK. How did you end up working as an Account Sales Manager for this big publishing house?
I studied English and always worked with books, mainly English language books, in a lot of different capacities: I've been a bookseller, manager at the Centraal Boekhuis – the main book distributor in the Netherlands –, manager at a bookstore, and worked at an import company. 15 years ago, while working at the import company, Random House UK decided to have its own Sales Manager in the Netherlands. I applied for the job and was accepted, and my career as an Account Manager for this big publishing house began.
Are you the only one working for Random House UK in this position here in Europe?
About 7 years ago Random House merged with Penguin and we are now this big company, Penguin Random House. We are 3 account managers here in the Netherlands, covering the Netherlands, Belgium, and France, we have 2 colleagues in Germany, who cover Germany and Austria, and we also have a Key Account Executive based in London.
What does working as an Account Sales Manager entail?
I have two basic functions. As a Sales Representative I sell new publications to bookstores and companies, work out the orders they place, and make it work.
In addition, I am also what you might call an account manager. Together with the customer we work out what sells and what does not sell, how can we make our products sell better, and think about promotions and marketing. We also try to support the logistics side of things, but since Brexit, it's been a challenge.
I do a lot of traveling: day trips in the Netherlands, but if I need to go to Belgium and/or France (mostly Paris), it's usually a week away. And if I'm not traveling, then I'm behind my laptop, dealing with loads of emails from customers asking questions from "Where are my books?" to "I need books on gardening, can you send me a list?"
All my colleagues and I are the first line of contact with the company and deal with anything related to the orders and their logistics. We get a lot of support from our colleague in London who works closely in the office with colleagues in operations.
How is your contact with your customers?
People are usually quite flexible and understanding when we explain if something is not going as expected, and we try to be forthcoming with all our information. Of course, there are always customers who don't want to accept an unrealistic situation, but mostly if we are transparent in our problems, people will understand.
There are also those situations in which we have to be flexible ourselves and help our customers, and it's not always possible to do as they ask, but we try our best to accommodate everyone. It's really nice to work for a company that recognizes what our customers do for us, and that we can do that for the customers as well.
But I can say for sure: there's never a dull moment!
Do you remember how your first contact with ABC working at Random House was?
I can't remember! But I was already a long-time customer and every Sunday used to go to the store at the Kalverstraat and sit at the tea and scones room and eat delicious scones!
How is your contact with ABC?
What I like about the ABC is that there are many people who work there for quite a long time, who are very passionate about books, and you can have a nice contact with everyone. You all have your interests, but we share this passion for books, which makes everything work better.
I work for a company that sells high-quality books, that has many great authors and titles in different sections, and this makes a great difference.
One of the most interesting aspects of working with ABC is that I have great conversations with everyone, and I also get inspired by what you say, how well (or not!) a book sells, and what can be done in that area. I might want to sell 10 books instead of 3, but if it's a title that doesn't sell, it's better for all of us not to put pressure and listen to the buyer.
Have you experienced some "interesting" moments as a sales representative?
When you come to a store and people forgot you were coming, or that the situation at the store does not allow for you to do your job at the moment, or the right way. That's an interesting "bad" moment.
But I also had a funny interesting one once in Paris, at a small bookstore. There was suddenly a crisis because the owner had to go collect their child from school and I was left alone behind the desk for half an hour. I even sold some books! But customers had to pay cash, because I didn't know how to work the cash register. That was a memorable experience for sure!
A little birdie told me you're leaving Random House in September. What are your plans for the future?
I'm leaving not because I don't like the company – I love the work I do there. I'm leaving because I want to enjoy more of my personal life. I have an enormous pile of books to read and besides reading I like going for walks, cycling, being outside in nature, working in the garden. I also make lithography prints and want to dedicate time to it, but would need more peace and quiet. I am really looking forward to doing that after I stop. Retirement has the wrong sound, as I'm turning 60 and could keep going. It was a well-thought decision to stop. Now I want to enjoy my private life, go to places with my friends and grandchildren and in general live my life and not mostly work.
As a final question: what would your advice be if somebody wants to work as a sales representative for a publishing house?
Work with books, have a passion for the industry, and enjoy your work. We are booksellers, and we want to sell books to bookstores, so you need to be able to talk about everything. You need to know a bit about everything, have to know not only the content but also the commercial side of things.
The most important thing that people should realize is that a love of reading is not the only thing you need to have. You also have to be able to hear what your customer says, and understand that people like different things. We do not only sell what we personally like, but what can make people happy, sad, move them, make them think. We sell what people want to buy. We need to be open-minded, well-informed, and patient with our customers, who do not always have as much time for us as we'd like.
Thank you very much, Pauline. We wish you a great time from September on!