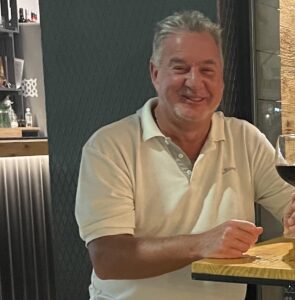 As we celebrate 50 years of ABC, we are asking people who have been working with us as publishing house representatives to share their insights into the funny world that is publishing and bookselling.
In this post, we talk to Rob Oud, who has worked with Penguin since 1987.
Hi Rob! Thank you for taking the time to talk to us about yourself and your work at Penguin. How did you end up working as an account sales manager for this big publishing house?
Back in 1977, I needed a job, and a friend introduced me to Nilsson & Lamm, importers of books in English, French and German.
I had been working at Nilsson & Lamm for almost 10 years when people in England came up with the idea of having a branch of Penguin in the Netherlands and Belgium. It was at first called Penguin NL, and now it is Penguin Random House UK. I work as Sales Manager for the Penguin Benelux arm of the company and travel around the Netherlands and Belgium, with contacts in Luxembourg as well.
What do you do as an account sales manager?
We basically do promotion and sales of our titles through our accounts, one of them being ABC. We also help develop new authors in our markets, who sometimes need three to four books to become really known. We have a lot of contact with England and our British colleagues in order to brainstorm about marketing tools and different strategies for the release of a title. We try to promote books at non-synchronous moments with England, so that we don't hamper the sales in the Dutch market of the translated materials. But we see that a lot of people do prefer to get the original in English.
We also try to avoid scheduling promotions for summer, preferring to organize them during spring or autumn.
At some key moments in the year, we come up with extra promotions for loyal customers and big orders. We then offer extra discounts so our customers, the bookstores, can offer lower prices to their customers. At ABC, we can see what to promote via the ABC Favorites.
How is your contact with your customers?
It's usually quite good. One of the most important things in this line of work is to be truthful to your customer, and I try to be true to myself and my customers as much as possible. So, if I think a book is not going to sell, I don't try to push it on the customer. One example is true crime. Those books do not sell as well in the Netherlands as they do in England, because most of the time they're about a certain crime specific to the region. But if I think it might be a good title, of course I do my best to make the customers as enthusiastic as I am.
Also, it's very important that we have personal contact. If the customer has a problem, they can always get in touch with me, and I will do my best to solve their problem.
Do you remember your first contact with ABC while working at Penguin?
My first contact was with the store in The Hague, right at the beginning of my tenure at Penguin NL, when ABC The Hague was still in the basement on Spuistraat. A couple of years later, I started working with the Amsterdam crew as well and have been doing that ever since.
How is your contact with ABC?
I have known many of the buyers for almost as long as I have worked for Penguin, and you create a certain connection with people through the years. So, I know that it's best to talk directly to certain buyers of certain sections, because they know exactly what they want and what sells, and I learn as much from them as they learn from me.
Many times, when we sign with a new author from another publisher for Penguin, I ask the buyers what they think about them and if they sell well, because the buyers will have a lot more direct information then I will at that moment. So, yeah, it's a very good contact.
I also love how creatively you at ABC use the windows to promote authors and books. You have very creative people among you, and we can see that in the window displays and in the stores.
Have you experienced some "interesting" moments related to your work?
There are many, but some are more "interesting" than others.
Back in 1987, Spycatcher: The Candid Autobiography of a Senior Intelligence Officer by Peter Wright, was released and then immediately banned in England. It had too much sensitive information about British politics, and because it was banned there, everybody wanted to read it. A bookstore in Zeeland decided to order 500 books and sell them on a boat between Vlissingen (the Netherlands) and Sheerness (England), and they actually sold thousands of them to the English, on the boat, because it was banned there. That was a bit of a surprise to us all but also a gigantic success.
Then there was controversy when The Satanic Verses by Salman Rushdie was released. Nobody expected that much of a reaction! I might have been one of the last people to see Salman Rushdie walking in total freedom during his visit to the Netherlands, because one week later, it all blew up and he had to get protection 24/7. And after that, we had to be very careful, work in anonymity, not let people know we worked for Penguin. It was really dangerous at the time. One day I was called by a bookstore where there was a demonstration. The police told the manager to close the store because they couldn't guarantee people's safety. That's how loaded it was. So yeah, that was a bit scary.
But sometimes things happen differently. We had just offered Magic Eye, created by Cheri Smith and Tom Baccei, to bookstores and sold only about 25 copies in the whole of the Netherlands. Nobody thought it would be a success. But then the newspaper De Telegraaf, which had color pages at the time, published four full pages of the 3D computer-generated images. Suddenly, everybody was calling us, complaining that we hadn't offered the book to them and saying they wanted to order it. In the end, it was another big success. People would even order them for parties and dinners! We've published a number of other 3D books because of that one.
And about a decade ago, at ABC in Amsterdam, your late colleague Rick [Lightstone] prepared an enormous window display about Keri Smith, who wasn't that famous yet in the Netherlands. She even received a picture of the window at her private address. She became the great success here that she is today because of that wonderful window. So, you can see how important bookstores can be for authors!
Have you noticed the impact that BookTok and films have had on the sale of certain titles?
For sure! I was quite surprised with how The Secret History by Donna Tartt suddenly started selling very well. It's an older title, exactly 30 years old, but because of BookTok, a lot of younger people are now discovering her work.
The same with films. We've all seen how well older titles like Dune by Frank Herbert and Me Before You by Jojo Moyes sold after the films were released.
So yes, it's quite amazing that we also sell books through social media and films based on books. It's really nice to see people sharing their likes this way, leading others to start reading those titles, too.
Physical book or e-book?
When e-books started selling, they made a great leap, and many people thought that within a few years, no physical books would be sold anymore. We now know that people still need the physical book, that while reading an e-book might be easier, you also forget what you've read rather quickly. The physical book won't go away, certainly not in the near future. That's my impression.
Finally, what advice would you give to somebody who wants to work as a sales representative for a publishing house?
You need to like reading, traveling and also people, because that's what you do: you travel a lot, you have to know what you're selling and you need to have good contact with people. Also, people need to realize that at least at Penguin, but with most English-language publishing houses as well, the main language is English, for everything. So, you need to be aware of that.
Thanks, Rob, for this interview and for all the years you've been working with us!
N.B.: Spycatcher: The Candid Autobiography of a Senior Intelligence Officer by Peter Wright, is out of print at the moment, but we might be able to order a copy for you from our second-hand/antiquary supplier. Please get in touch with one of our stores to find out about its availability.