Come share your best stuff!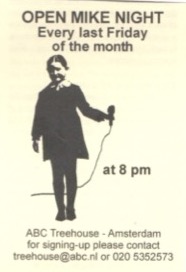 written by Lynn
Open Mic Nights were initiated by Molly Ackerman, the first manager of the ABC Treehouse, in 2000. Artist Molly had come to the Thanksgiving Day dinner and marveled at the space in the ABC Treehouse. She had lots of paintings under her bed but wanted a place to show them.
In return, she agreed to blow life into the recently rented space to make it a community hangout for booklovers.
She suggested we hold an Open Mic night one Friday evening per month where people would really listen to the poetry, music or short pieces on offer. The door fee was 7 guilders and included one free drink. Performers came in for free and got one drink as well.
Pretty soon we had lots of performers of all ilk and heard fantastic travel tales, short stories, poetry and acoustic music. Once an Italian tourist came to listen but had no money for a ticket. He asked if he might perform instead. Assured he might, he played a cassette recording of Tarantella music and danced a frantic solo up and down the Treehouse floor. He earned his drink.
The whole audience helped fold up the chairs and cleanup the kitchen after each event, which fostered interesting conversations between artists and audience.
As time went on, Donna DuCarme took over the Open Mic presentation. After organizing ABC Treehouse events and rentals for several years, Donna met her guy in Scotland. Together they have a sheep farm and she's happy.
We asked Luke Nyman, a frequent performer at Open Mic Nights as well as an ABC colleague, to host an evening when Donna couldn't. He did it so well that he's still doing it today, two decades later.
Although we lost the ABC Treehouse space several years ago, we've continued to hold OMN in the Amsterdam store one Friday per month. Entry is free, no drinks.
During COVID, Luke started to host the monthly OMN on ZOOM, which widened not only our listening audience but also opportunities for authors and musicians living far away to share their work. Rather than disappoint the many authors who approach us for a book launch, being able to present one's work for up to 8 minutes on Open Mic Night is a nice alternative. One evening we had writers from Jordan, New York, Philadelphia, and Amsterdam sharing their work in a way we could not have imagined in the live-only days!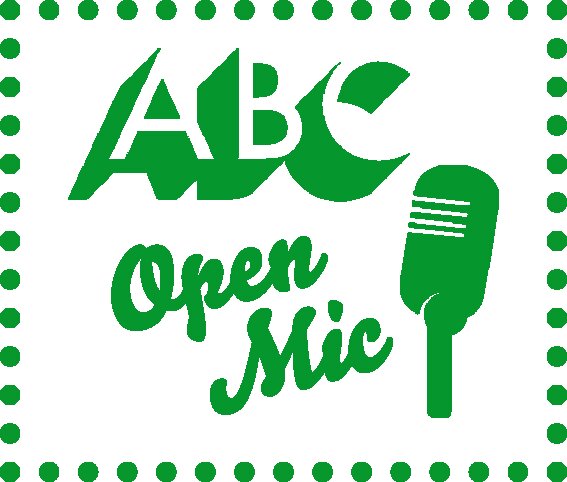 Why do we do this? Because writers are readers and readers are writers. We want to help writers get recognition for their work.
We're taking a summer break, but go to the ABC Open Mic MEETUP group to sign up for the next Open Mic event, usually held on the first Friday of every month both online and live. We'd love to hear and see what you've been doing!