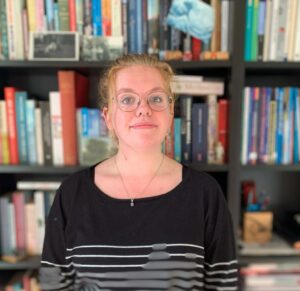 Marie is a good example of a "growing up with ABC" customer: niece of our Sophie, she has known the ABC since she was born. Her ABC store may have changed from The Hague to Amsterdam, where she moved to study and work, but her loyalty remains the same.
ABC Lília: Great you're here, Marie! Do you know why I'm interviewing you?
Marie: I don't know exactly where the interview will be published, but I thought it was a nice way to celebrate 50 years of ABC. So, when Sophie mentioned you'd like to interview a young customer, I was very interested in taking part.
ABC Lília: That's amazing! How long have you been an ABC customer?
Marie: I've always known about the ABC, but I started coming here as a customer when I started earning my own money when I was 15. I'm 22 now. At 15, I worked at a supermarket and spent almost all my money on books. I earn more now, but I still spend a lot of my earnings on books. I always preferred English-language books, so coming to the ABC was a logical step.
ABC Lília: Do you go to other bookstores that sell English-language books?
Marie: Sometimes, but I do prefer the atmosphere at ABC. A couple of months ago, I went to another bookstore for a title that the ABC didn't have and they did, but I actually ended up coming back and ordering the book here. I feel like ABC is a lot more customer-friendly and that most of the other stores think first about selling and second about the customer.
ABC Lília: One of our trademarks is indeed customer service. It's quite nice to hear that it's also something important for you.
Marie: For sure! If the ABC doesn't have a certain title in stock, it's always: "But we can order it for you" or "Let's try to find a way to get the book for you." In other stores, it's more like: "Too bad" or "We're sorry we don't have it," and I practically have to force them to order the title for me.
ABC Lília: Why do you think it's important to support independent bookstores?
Marie: You can maybe buy books cheaper online, but a physical bookstore has a lot of charm. If I get into a bookstore looking for a certain title, I never leave with just that book alone. There is always more to be seen and experienced there, so it's worth going.
ABC Lília: Is there a book or an author who changed your life? And what was that change?
Marie: I actually have two, because they both increased my love of reading.
The first was a gift from Sophie, The Clockwork Angel by Cassandra Clare. It has such a rich Victorian fantasy world that it made me want to write my own fantasy, and in the end, it gave me the incentive to write creativity in other ways, such as writing articles for a magazine published at my university. It worked as a creative snowball.
And the second is Europe and the People Without History by Eric R. Wolf. I had to read it for an anthropology course at university and it opened my mind to academic writing. So now I also read academic books as a hobby, but in a more leisurely way.
ABC Lília: Do you have any ABC anecdotes?
Marie: It's not exactly an anecdote. Every time I go to the store, I end up buying more than I expected. Especially when I go with Sophie, because she shows me all the books she thinks would interest me. My top score was when I once went for one book and ended up buying seven instead! So, not an anecdote exactly, but something that's really an ABC experience for me.
ABC Lília: Is there a book or an author you would recommend as essential reading?
Marie: One book that made a great impression on me was the dystopian novel 1984 by George Orwell. I even wrote a paper about it. Although it was written in 1948, it's a book you can compare to the world now. That might be a depressing thought, but it's not too far from reality. I was very impressed how Orwell could predict it all. If we all read it, we could discuss its implications.
ABC Lília: Last but not least: what's the last book you read? And what are you reading now?
Marie: I've just finished The Freedom to Be Free by Hannah Arendt, a book containing three of her essays. It's part of a Penguin collection called Great Ideas.
And now I'm reading Before the Coffee Gets Cold by Toshikazu Kawaguchi.
ABC Lília: Marie, thank you very much for coming all the way from Amsterdam to The Hague for this interview.
Marie: I'm meeting my cousin as well, so it's a double pleasure!